The connections you make investing four years studying at an Adventist college or university give you a valuable place in the global Adventist community. Trust those who have gone before, what sounds confining now, can become comforting and helpful in the context of college life and beyond. Following are more of the benefits of the connections and forever friendships you'll make with an Adventist education.
Worldwide Connections
Friends and even acquaintances made on an Adventist college campus can lead to internships, jobs, relationships and other opportunities. Our grads said they found it easier to find a sense of community than their peers on a public campus. After graduation, you will find a large extended worldwide family welcoming you into a broader, but still tight-knit, circle of lifelong connections and not just among those who graduated from your campus. Your network will span across the worldwide Adventist community.
Ease into College Social Life
No matter where you studied during grades K-12, you're probably wondering what your social life will be like in college. For some, high school years were full of friends and social events. For others, friendships were harder to find. Whether you found a go-to group of friends in high school or not, college is a fresh start. The memories you made in high school — whether good or bad — will give way to a new environment, new friendships, and new opportunities.
All the newness, though, can seem daunting. How do I figure out this new social universe? How do I meet people? Will I be lonely? Take a deep breath. These doubts are normal, and you can lay your worries to rest. The social setting at an Adventist college is measurably different. Grads from Adventist colleges said it was simply easier to meet and develop friendships than for Adventist students at a public university. 
Meaningful and Lasting Friendships
Late-night food runs, impromptu parties, and exam prep all-nighters are a likely part of life on any campus. Most of these memories with friends last longer than classroom discussions. At an Adventist college, however, you won't just bond over cram sessions, favorite shows and Instagram bloggers. You are learning and growing together because of common values, beliefs, emotional support, and mutual encouragement. Adventist college students said they were 2x as likely to find friends who positively influenced their attitudes and values than the those attending public campuses. That means students develop personal relationships rooted in similar eternal beliefs and values leading to the kinds of friends who are more likely to pray for you than to party with you.
A common foundation in Christ means friendships are deeper, more meaningful, and will last far beyond your college years. Adventist college alumni said they were 2x as likely to develop lifelong friendships with classmates than Adventist graduates from public universities. These uplifting forever friendships can be hard to find throughout life, but on an Adventist campus, close connections are almost hard to avoid.
Healthy Dating
If you're wondering about finding that special someone, people really do date at Adventist campuses. In fact, students at Adventist colleges are more likely to have healthy dating experiences than students at public colleges. Grads from Adventist colleges also told us that they felt more prepared for marriage than graduates from public universities. And let's be honest, the odds of finding someone who knows how to prepare an ideal haystack are way higher at an Adventist college.
Shared faith and values will help you feel right at home at an Adventist college. When you are more connected, it is easier to feel comfortable in your overall environment. And when you feel comfortable, you're much more likely to involve yourself in activities that you enjoy. So you can say buh-bye to any social anxiety you might be feeling, and have the confidence to participate and lead in clubs, groups, and organizations. Find your forever friendships.
See more of the benefits of choosing an Adventist college or university.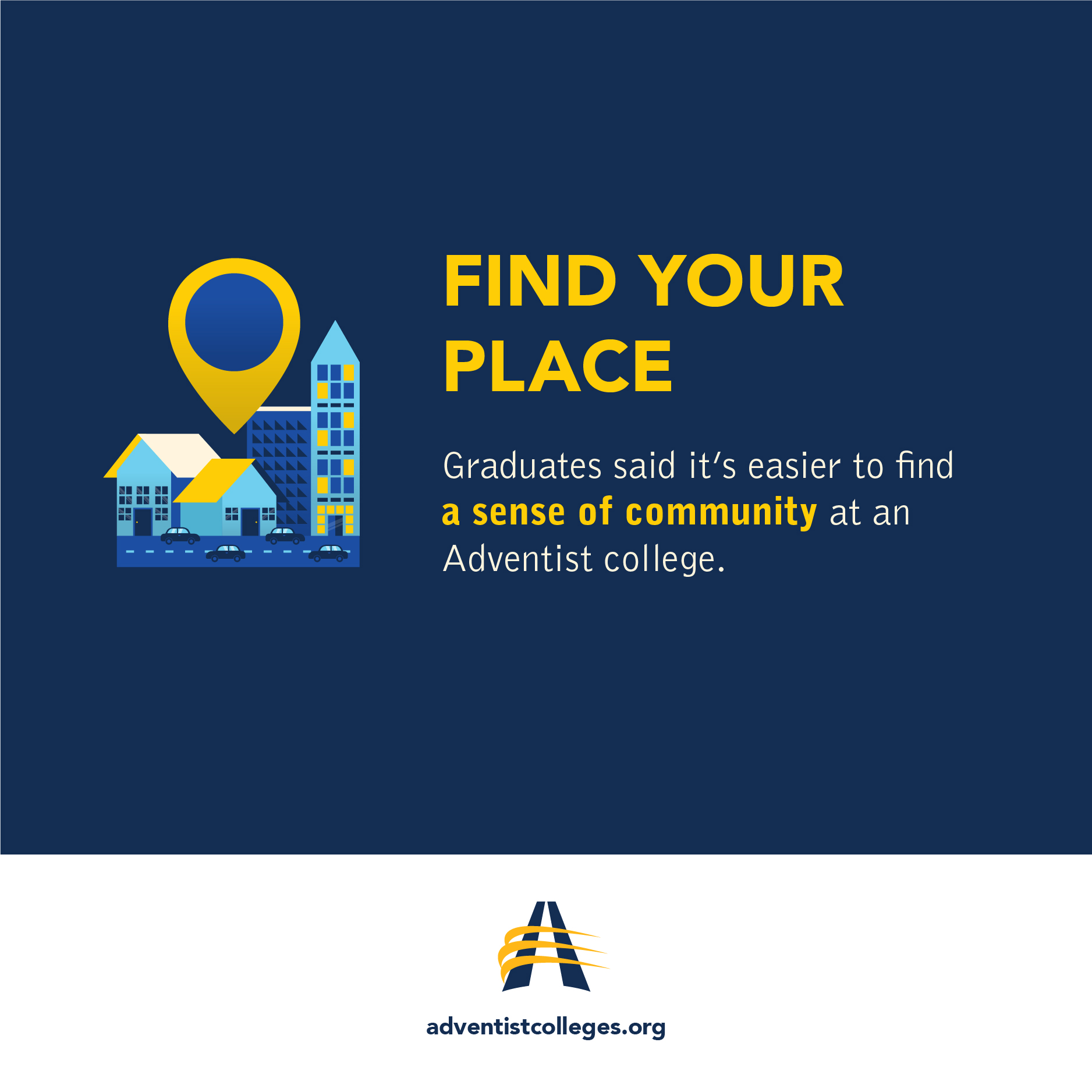 Graduates of an Adventist college or university were more likely than Adventist graduates of a public college or university to experience the following while in college…
…friends who positively influenced their attitudes and values. [1, Sig]
Adventist College Alumni

72.0%

72.0%

Adventist Public University Alumni

32.1%

32.1%
…lifelong friendships with classmates, faculty and staff. [2, Sig]
Adventist College Alumni

57.1%

57.1%

Adventist Public University Alumni

22.8%

22.8%
…positive dating interactions. [1, Sig]
Adventist College Alumni

47.5%

47.5%

Adventist Public University Alumni

14.9%

14.9%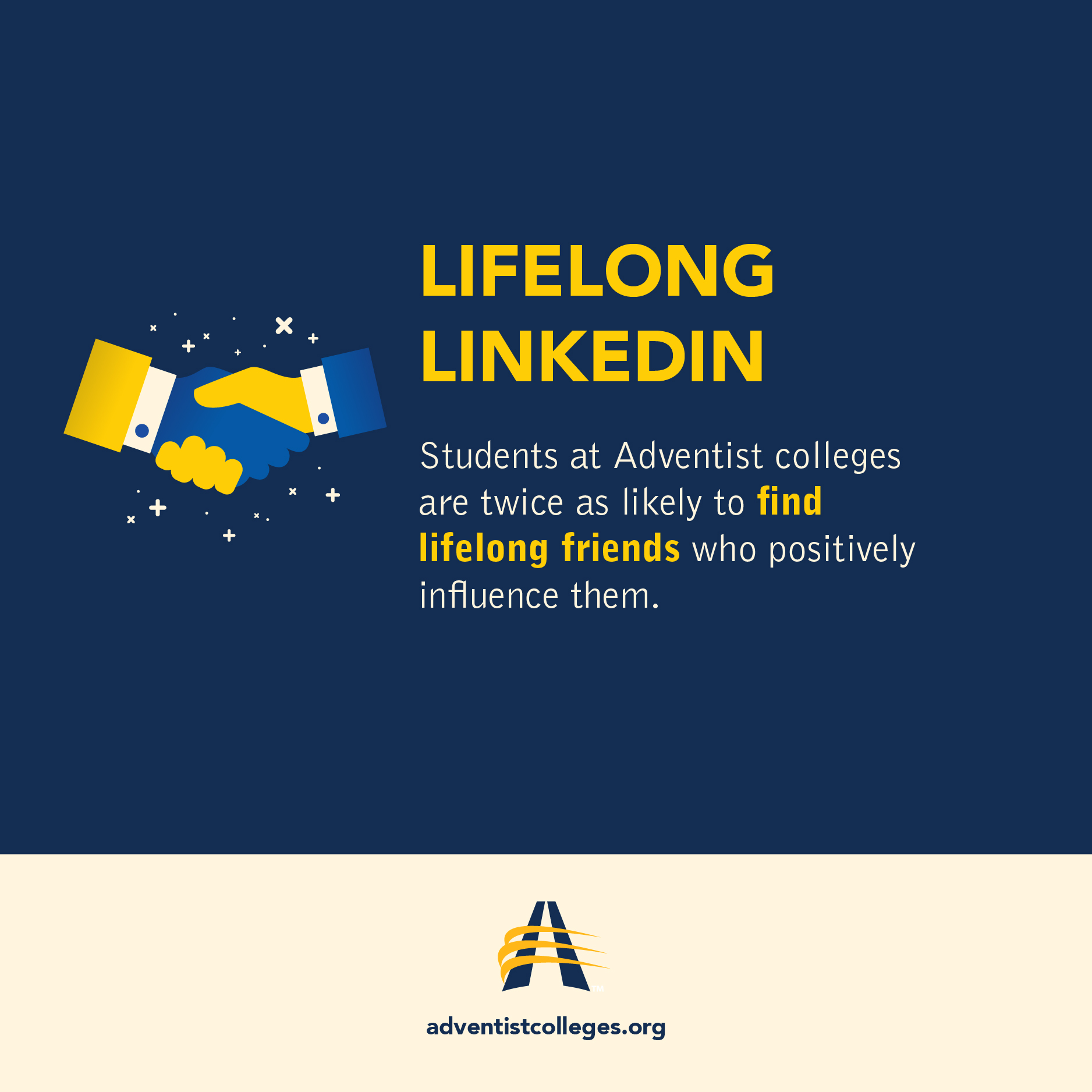 Have you ever wanted to know how Adventist colleges measure up?
We've done our homework. We asked a lot of questions from a variety of graduates. Here's what we learned: Adventist higher education offers a measurable difference in not only increased spiritual experience and values, but also in personal connections, campus participation and life preparation. In fact, 82 percent of graduates from Adventist college and universities told us the investment they made in their education was worth it. And in case you are wondering, the "us" is the Association of Adventist Colleges and Universities (AACU) who commissioned the CollegeImpact Study. Alumni from all AACU member colleges and universities participated in comparing experiences and outcomes of Adventist college and university graduates with Adventists who graduated from public institutions.
College Impact Research Footnote Key
---
[1] Percent reporting their college experience "often" or "always" included the item.

[2] Percent reporting their college was "quite effective" or "extremely effective" at helping them develop the item.

[Sig] Statistically significant result.