Enjoy opportunities to get involved and practice leadership at an Adventist college or university. If variety is the spice of life, your college experience shouldn't be bland. The next four years could be rich, lively, and full of the experiences you need to participate and lead among your peers. Following are more of the benefits in an Adventist education to help you get involved and lead.
Enhanced Passion for Service
Service isn't just a nice idea at an Adventist college; it is a way of life. Students on Adventist campuses are 4x more likely to experience a mission trip than their peers at public colleges. Chances are, helping a team build a church or school in an impoverished Haitian village will impact your life as much or more than the community being served. Even without travel, Adventist universities offer you many more options for volunteer work in the local community through spiritual outreach programs, community service, and mentoring. Graduates said they left college with an enhanced passion for volunteering and serving compared to Adventist students who attended public colleges. 
Enriching Campus Experiences
Whether you're ready to throw on a jersey or cheer from the stands, you'll score great memories in athletics and intramural sports. In fact, students at Adventist colleges are 2x as likely to participate in campus sports programs than students at public universities. So jump on in; you don't have to be the next Michael Jordan to make an impact on the court. And if your Spotify is constantly on in the background, an Adventist college is the place for you. Students are four times more likely to engage in band, orchestra, and choir while in college than Adventist students at public schools. 
In addition to tearing up the sports field and rocking out in music groups, there are also ample opportunities to take advantage of professional organizations related to your major (bonus: these look great on a resume). And if you want to make a difference campus-wide, you'll be in good company. Students at Adventist colleges are significantly more likely to participate and hold leadership positions in student government. 
Supportive Learning Environment
Raise your hand if a college classroom sounds a bit intimidating. No need to fret or avoid eye contact. In Adventist campus classrooms, supportive professors help students feel more comfortable sharing their thoughts and questions. We aren't just guessing. Graduates told us they were more likely to find high-quality, teaching-oriented faculty on an Adventist campus compared to their peers at a public school. These dedicated teachers focus on student success more than their own academic scorecards. Their teaching focus helps you to understand what you're learning, perform better in your classes, and retain information that you will use in your career. So, go ahead, you won't get shut down for asking about the difference between affect (verb: to influence) and effect (noun: a result).
On-the-Job Experience
Let's be honest, kind professors leading to good grades (and even better grammar) are important, but they probably won't buy you tacos. Or shoes. Or a car. Money matters. At an Adventist college, you can get involved while making extra cash or whittling down that tuition total. Learning on the job is easier since students are 3x more likely to work on campus or work as a resident hall assistant than their public university peers. Students are also more likely to contribute to publications like the school newspaper or yearbook. Four years of creating a stellar portfolio could lead to a gig with a big-time agency or Web design company.
Lifelong Network of Support
With some coin in your pocket and skills on your resume, what's next? While there is currently no Adventist-Linkedin, the widespread connections are solid. In other words, you will know people who know people. You will impress these people with your spicy list of skills blended not only in the classroom, soccer field, residence hall or performance stage, but also through volunteer service, student government and on-the-job learning. This variety in life experiences will allow you to be your versatile self while leading to the best memories and career skills.
Come stir up a college experience worth savoring. Participate and lead on an Adventist campus for tangible experience to help prepare you for life.
See more of the benefits of choosing an Adventist college or university.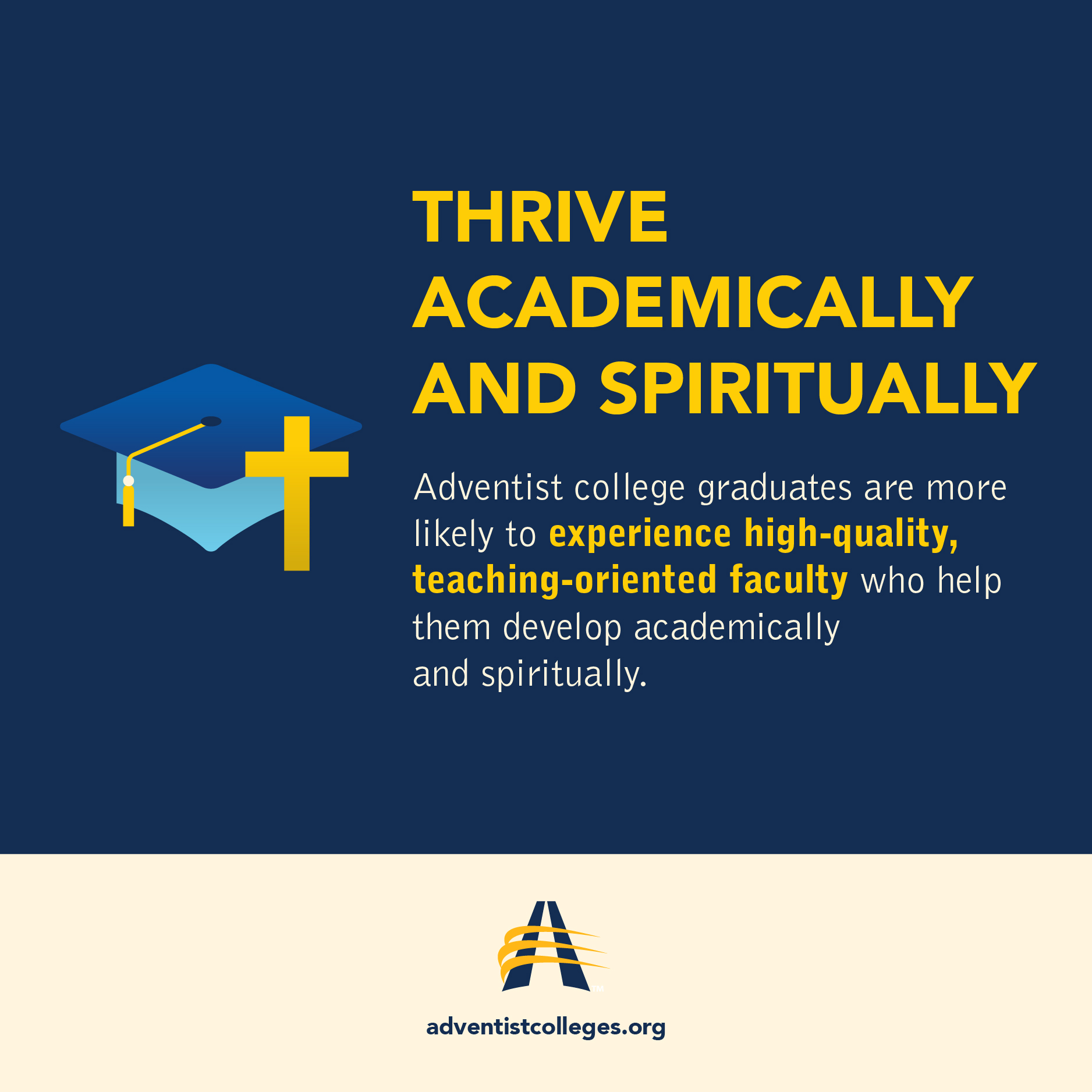 Graduates of an Adventist college or university were more likely than Adventist graduates of a public college or university to experience the following while in college…
…develop a passion for volunteering and community service. [2 Sig]
Adventist College Alumni

44.1%

44.1%

Adventist Public University Alumni

24.0%

24.0%
…participate in campus intercollegiate and intramural teams. [1, Sig]
Adventist College Alumni

18.5%

18.5%

Adventist Public University Alumni

8.8%

8.8%
…participate in music groups, such as band, orchestra and choir. [1, Sig]
Adventist College Alumni

29.7%

29.7%

Adventist Public University Alumni

7.3%

7.3%
…hold leadership positions in student government or other campus organizations. [2, Sig]
Adventist College Alumni

19.9%

19.9%

Adventist Public University Alumni

12.8%

12.8%
…work on campus, earning extra cash while building work skills and a resume. [1, Sig]
Adventist College Alumni

71.0%

71.0%

Adventist Public University Alumni

19.8%

19.8%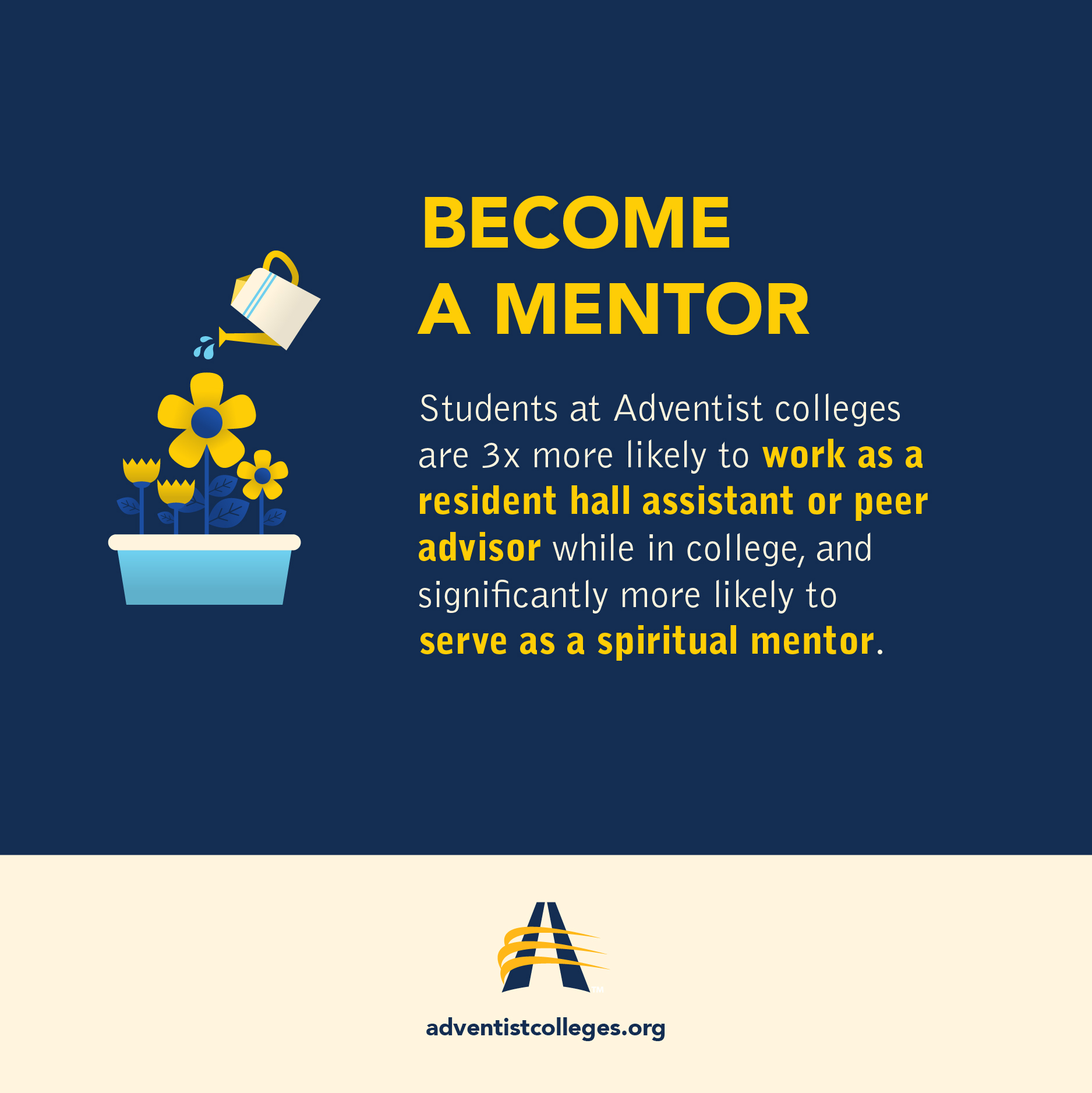 Have you ever wanted to know how Adventist colleges measure up?
We've done our homework. We asked a lot of questions from a variety of graduates. Here's what we learned: Adventist higher education offers a measurable difference in not only increased spiritual experience and values, but also in personal connections, campus participation and life preparation. In fact, 82 percent of graduates from Adventist college and universities told us the investment they made in their education was worth it. And in case you are wondering, the "us" is the Association of Adventist Colleges and Universities (AACU) who commissioned the CollegeImpact Study. Alumni from all AACU member colleges and universities participated in comparing experiences and outcomes of Adventist college and university graduates with Adventists who graduated from public institutions.
College Impact Research Footnote Key
---
[1] Percent reporting their college experience "often" or "always" included the item.

[2] Percent reporting their college was "quite effective" or "extremely effective" at helping them develop the item.

[Sig] Statistically significant result.