A versatile and relevant Adventist college experience helps you to be prepared for life as a lifelong learner ready to handle real-world situations. All big milestones in life — a new job, city, marriage, parenthood — come with learning curves. When you are confident in your ability to embrace change, you can be assured that you'll be prepared for the hills and valleys of life. College is an investment, but the outcome of your Adventist education is so much more than a piece of paper. Following are some of the ways an Adventist education prepares you for life.
Professional Confidence
During the interview for your first job, you'll be able to tell your potential boss about the entrepreneurship class project that taught you how to work as a member of a team and meet strict deadlines. You can provide real examples of your leadership experience as the captain of your intramural flag football team or the school newspaper editor. When you have to give your first work presentation or sales pitch, your experience presenting in class and leading worship will make you more confident and ease your nerves. You might even stand out among your co-workers because graduates from Adventist universities are more likely to develop public speaking skills than grads from public colleges. 
Personal Moral Compass
You should expect college to prepare you for post-college life with academic expertise and professional skills. You will also find that isn't an option on an public campus is the additional benefit of integrating faith in the classroom. Grads said Adventist colleges were 3x more effective in helping them develop action-guiding moral principles than graduates from public schools. 
Adventist college professors want to help you establish a personal code of ethics–solid values to fall back on in complex situations. Working with people means navigating conflict and sometimes corruption. When others turn to blame or shallow shortcuts, your ethical foundation will help you point to a better way to handle a dispute between co-workers. When a business partner suggests a shady solution to financial problems, you will know how to respond with confident integrity. Submerging yourself in ethical, faith-filled perspectives while at an Adventist college will guide you through tough decisions when you become a teacher, journalist, programmer, doctor, engineer or CEO.
Learning without Borders
Adventures offered by an Adventist college outside of the classroom will also help you in your life and career. When your boss asks you to go on a temporary assignment in another country, you won't be intimidated by international travel if you know how to navigate customs and currency exchange. From a short study tour to a semester abroad or a year as a student missionary, your world view and resume will both be enriched when Barcelona, Belize, Prague, Nairobi, Santiago or Seoul are stamped in your passport. A semester learning Arabic in Lebanon can give you skills and insight to develop a foreign policy or marketing strategy relevant to that region. Studying in Florence will give you a rich art education to draw on when researching for your doctoral thesis, or the inspiration to design a color palette for an interior design client.
Healthy Rhythms
A healthy lifestyle contributes to success in your career and personal life. Attending an Adventist college means you are 2x as likely to have a deeper understanding of the importance of healthy living than students at public schools. The more you integrate this knowledge into your life, the easier it will be to climb the steps of Machu Picchu, boulder your way through the Rockies, or even cook a healthy meal to impress your future in-laws. Students at Adventist colleges can also take advantage of campus fitness centers, beautiful, park-like campuses that are perfect for afternoon strolls, and plenty of healthy food options to refuel your body. If you develop these healthy habits to combat a screen zombie lifestyle now, you will benefit for the rest of your life.
The weekly rhythm of a Sabbath rest supported by your peers at Adventist colleges also encourages a balanced lifestyle. A day for worship, reflection, service and nature adventures with friends can reboot your soul from the rigors of study and work. Building time to pause in your week allows for deeper friendships and contemplation. The pace provided by Sabbath could be why Adventist college graduates said they were 2x as likely to develop a meaningful philosophy of life while in college than their public campus peers. Continuing the Sabbath habit will refresh your mind and body during the most stressful times ahead for both your work and family.
Answers to the Big Questions
Right now, you can't see around the next corner. Even while you wrestle with doubts and questions, you can start by finding the best place to support your search for answers. Where am I going? What is the path for my life? How do I get from here to there? Our research suggests these big questions are easier to answer in a smaller, more supportive and sustaining setting found on a Seventh-day Adventist campus. Graduates from Adventist colleges said they were significantly more likely to develop a sense of purpose in life than their peers from public universities. Purpose leads to your own God-inspired life path.
As your internal GPS allows you figure out where you want to go in life, you'll have a support system and network to help you get there even if you face dead ends and detours. From spiritual guidance through shared values to career preparation built on stellar academics to the development of leadership skills in student organizations and missions, you will be prepared for your journey.
An Adventist college experience helps you be prepared for life with adaptability and an infrastructure to map a life you love. Other than high school graduation, what are you waiting for?
See more of the benefits of choosing an Adventist college or university.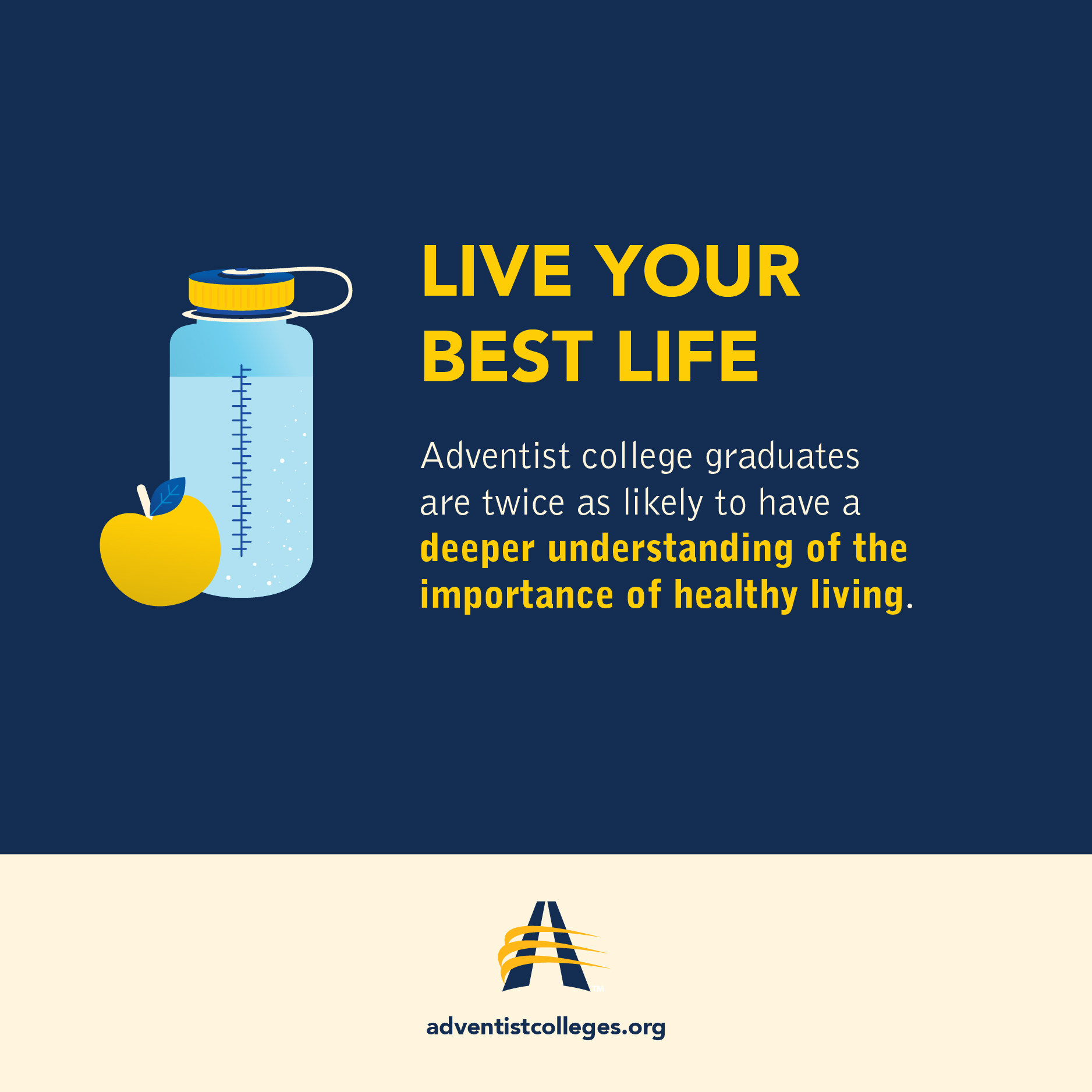 Graduates of an Adventist college or university were more likely than Adventist graduates of a public college or university to develop the following while in college…
…public speaking skills. [1, Sig]
Adventist College Alumni

50.4%

50.4%

Adventist Public University Alumni

43.5%

43.5%
…moral principles that can guide actions. [2, Sig]
Adventist College Alumni

64.8%

64.8%

Adventist Public University Alumni

24.8%

24.8%
…deeper understanding of the importance of healthy living. 

[2, Sig]
Adventist College Alumni

54.2%

54.2%

Adventist Public University Alumni

24.2%

24.2%
…a meaningful philosophy of life. [2, Sig]
Adventist College Alumni

55.9%

55.9%

Adventist Public University Alumni

8.7%

8.7%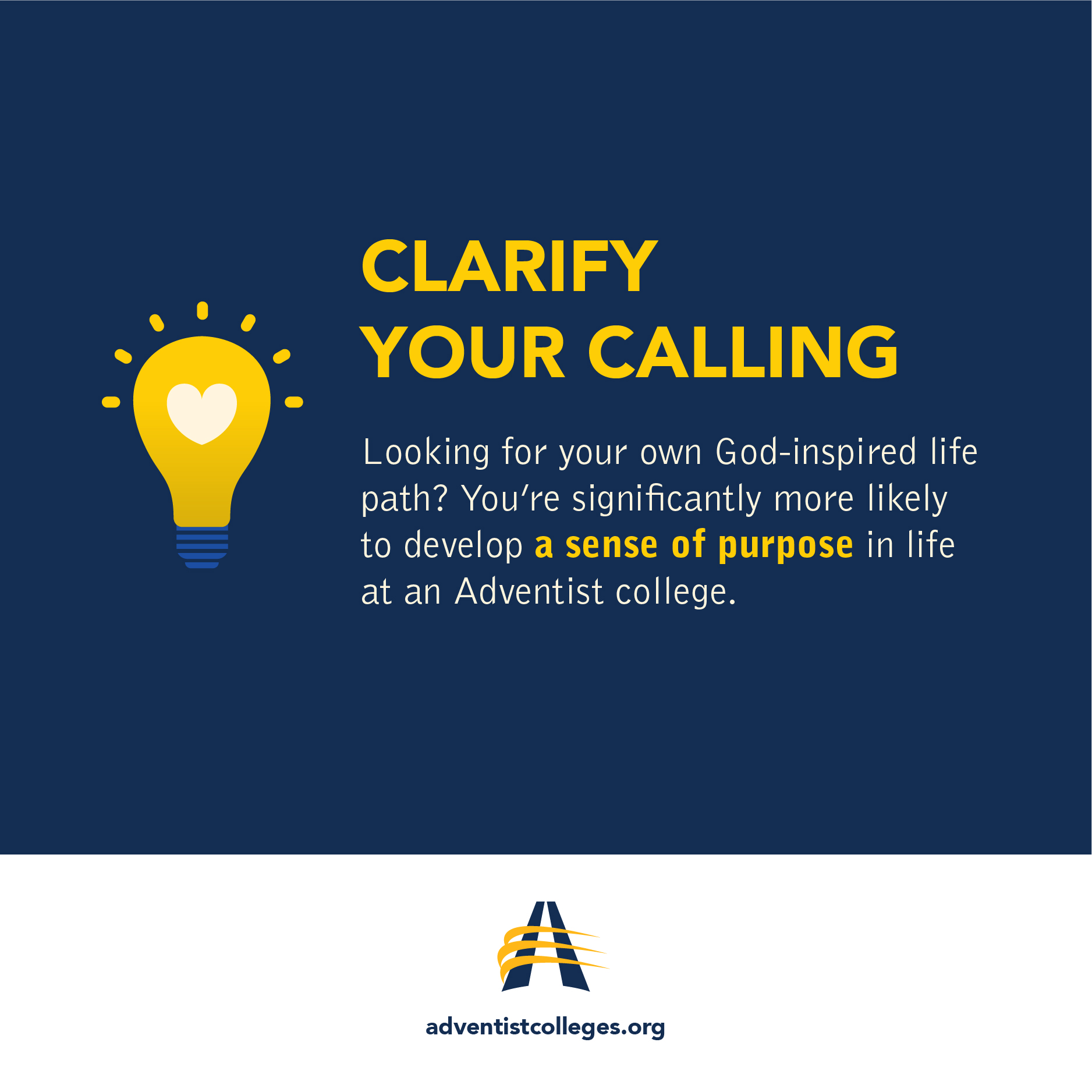 Have you ever wanted to know how Adventist colleges measure up?
We've done our homework. We asked a lot of questions from a variety of graduates. Here's what we learned: Adventist higher education offers a measurable difference in not only increased spiritual experience and values, but also in personal connections, campus participation and life preparation. In fact, 82 percent of graduates from Adventist college and universities told us the investment they made in their education was worth it. And in case you are wondering, the "us" is the Association of Adventist Colleges and Universities (AACU) who commissioned the CollegeImpact Study. Alumni from all AACU member colleges and universities participated in comparing experiences and outcomes of Adventist college and university graduates with Adventists who graduated from public institutions.
College Impact Research Footnote Key
---
[1] Percent reporting their college experience "often" or "always" included the item.

[2] Percent reporting their college was "quite effective" or "extremely effective" at helping them develop the item.

[Sig] Statistically significant result.