Adventist colleges and universities exist to blend quality career preparation with life preparation by developing each student's soul-centering foundation and sustainable spirituality. This combination can change your life in your college years and beyond. Following are some of the spiritual benefits of an Adventist education.
Spiritual Compass
As much as you want to lean into God's plans, the next decade hasn't been outlined for you through skywriting, billboards, or Google Maps. You may not know where you are headed in life, but you realize the best route forward involves God's will. No professor or classmate can hand you a personal passport for a blessed and balanced life, but if you are serious about seeking God and His plans, choose a college environment that supports your goals. This combination of career preparation and life preparedness can change your life in your college years, the next 10 years … and even the next 10,000 years.
On an Adventist campus, the supportive setting provides you with something like an internal and eternal GPS (God's Planning System perhaps) to guide you through life's most daring and demanding thrills and spills. You will explore career content at least as well as you could at a public campus, and you won't fall behind in your learning or earning potential. However, the ultimate difference is that when you embrace a rich and enduring spiritual compass, the other areas of your life will flourish too.
Personal Relationship with Jesus
Graduates from Adventist colleges told us that they were 7x more likely to develop a personal relationship with Jesus while in college than their Adventist peers who attended public universities. This means seven times more certainty that you will be propelled toward His presence and guidance during your pivotal college years. And even though your bond with Jesus exists no matter where you go to school or work, the support of an entire campus sharing your values adds to confidence to your faith, your future, and your next steps. 
Spiritual Mentors
Your opportunities for spiritual growth on an Adventist campus transcend church and worship services and flood into classes, friendships, and activities. In the classroom, your professors will exemplify strong ethical values and pray for you–also seven times more likely in an Adventist classroom. Because these teachers truly want to prepare you for more than the next exam, your academic exploration can lead to life navigation as you discuss topics through a Biblical lens. Students at Adventist campuses are… wait for it … 7x more likely to have professors who study the Bible with them than Adventist students at public universities. If you're struggling, faith-focused faculty, deans and on-campus job supervisors are ready to support you through prayer, mentoring, and counsel.
Positive Peer Pressure
Similarly, students on Adventist campuses build each other up and encourage one another in their relationships with Jesus. Adventist colleges have what you might call "positive peer pressure." Most students spend their time doing things that are spiritually, intellectually, and emotionally beneficial. Graduates on Adventist campuses said they were 4x more likely to be surrounded by friends who positively influenced their walk with Christ.
Sure, even at an Adventist college, you can still get distracted, discouraged and even make some wrong turns. But finding people to share in worship and prayer–close friends who are helping point you to God and His word–will be so much easier than on a public campus. Through prayer, sharing the right Bible verse at the right time, or just listening at the end of a disappointing day, the love and Christian influence of your fellow students will fuel your momentum toward a life of truth, grace and hope. These kinds of steady reminders of your true north, will help you develop healthy spiritual patterns for life.  
Faith in Action
Even more, you won't have to wait until graduation to put your faith into action. Adventist campuses give you numerous avenues to dive into local campus ministries projects or embark on a mission trip. With an expanded passion for service fostered on an Adventist campus, you are 5x more likely to serve abroad than if you attend a public institution. With a spectrum of positive activity choices and the added support of a campus church family, you can find harmony among your faith, free time and friends.
When your spiritual life is thriving, so will all other areas of life. Your friendships will be stronger and deeper, you will feel the confidence and focus you need to do well academically and get involved on campus, and you will be prepared for anything life throws at you. That is the Adventist difference in your sustainable spirituality.
See more of the benefits of choosing an Adventist college or university.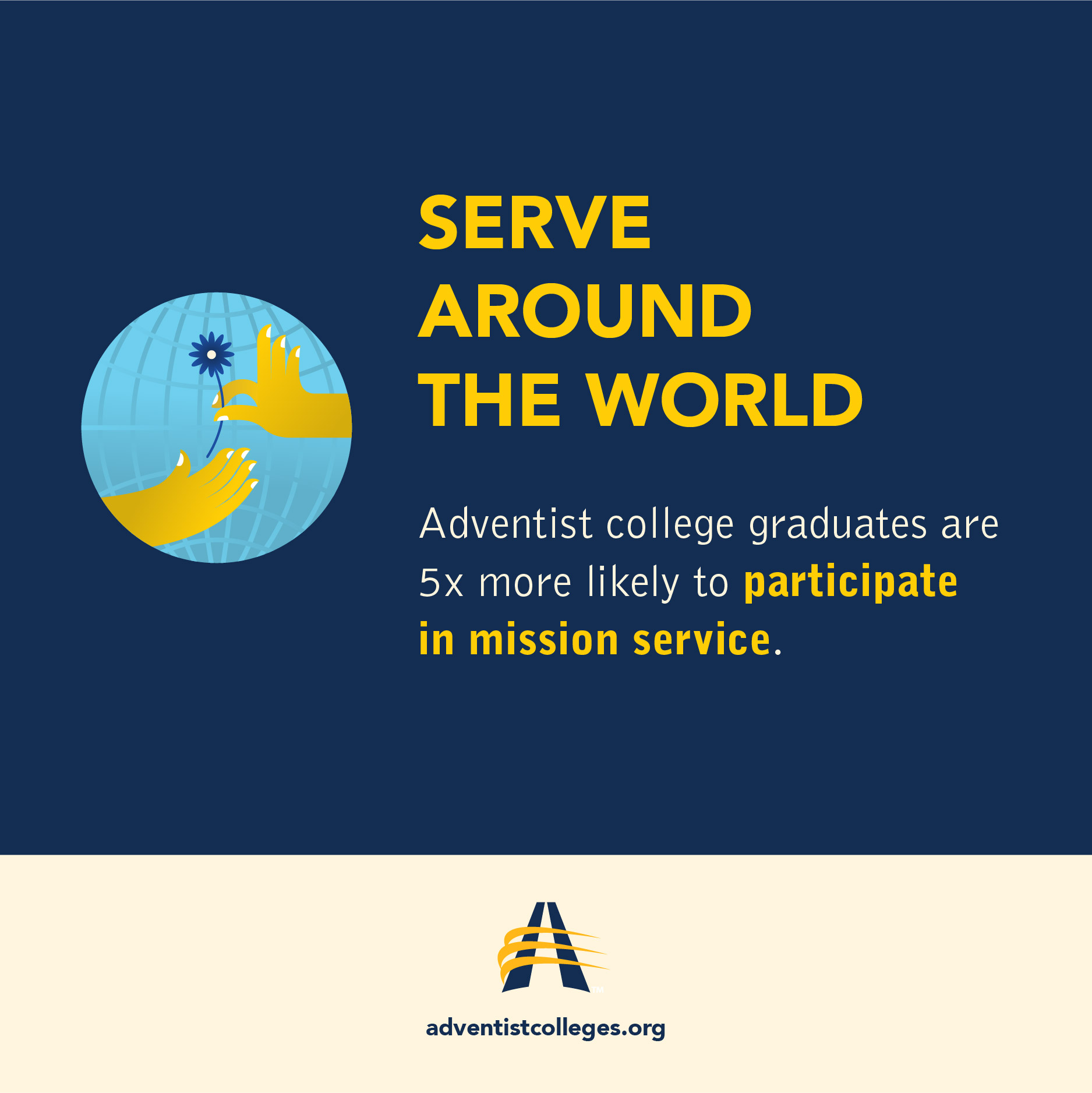 Graduates of an Adventist college or university were more likely than Adventist graduates of a public college or university to experience the following while in college…
…a deeper personal relationship with Jesus. [1, Sig]
Adventist College Alumni

58.7%

58.7%

Adventist Public University Alumni

8.2%

8.2%
…professors who helped them develop spiritually and/or develop spiritual values.

[1, Sig]
Adventist College Alumni

36.5%

36.5%

Adventist Public University Alumni

4.5%

4.5%
…professors who prayed with them while in college. [1, Sig]
Adventist College Alumni

25.7%

25.7%

Adventist Public University Alumni

3.3%

3.3%
…professors who studied the Bible with them and/or increased their faith in the Bible. [1, Sig]
Adventist College Alumni

49.5%

49.5%

Adventist Public University Alumni

6.3%

6.3%
…friends who positively influenced their walk with Christ. [1, Sig]
Adventist College Alumni

56.6%

56.6%

Adventist Public University Alumni

13.1%

13.1%
…friends who attended worship services with them. [1, Sig]
Adventist College Alumni

69.7%

69.7%

Adventist Public University Alumni

9.1%

9.1%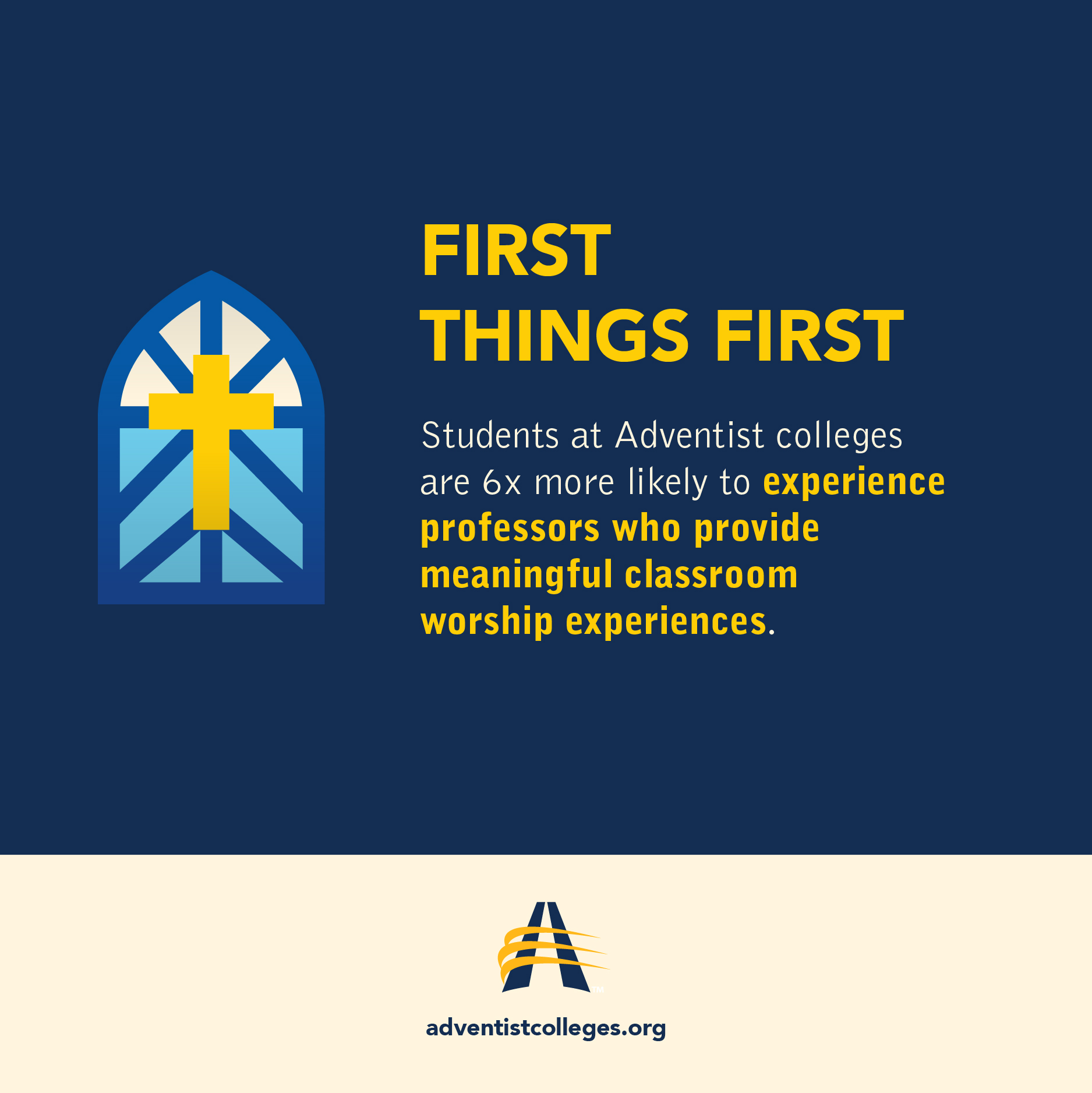 Have you ever wanted to know how Adventist colleges measure up?
We've done our homework. We asked a lot of questions from a variety of graduates. Here's what we learned: Adventist higher education offers a measurable difference in not only increased spiritual experience and values, but also in personal connections, campus participation and life preparation. In fact, 82 percent of graduates from Adventist college and universities told us the investment they made in their education was worth it. And in case you are wondering, the "us" is the Association of Adventist Colleges and Universities (AACU) who commissioned the CollegeImpact Study. Alumni from all AACU member colleges and universities participated in comparing experiences and outcomes of Adventist college and university graduates with Adventists who graduated from public institutions.
College Impact Research Footnote Key
---
[1] Percent reporting their college experience "often" or "always" included the item.

[2] Percent reporting their college was "quite effective" or "extremely effective" at helping them develop the item.

[Sig] Statistically significant result.