Why Choose an Adventist College or University?
Top Benefits of Adventist Colleges and Universities (vs. Public Universities)
As much as you want to lean into God's plans, the next decade hasn't been outlined through skywriting, billboards or Google Maps. An Adventist campus helps strengthen your internal and eternal GPS by blending quality career preparation with soul-sustaining spiritual development, a life-changing combination for the next 10 … or even 10,000 years.
more likely to develop a deeper relationship with Jesus
more likely to participate in mission service or mission trips
more likely to experience professors who studied the Bible with students
more likely to work on campus
If variety is the spice of life, Adventist colleges might as well be jalapenos. Your college experience shouldn't be a bland, boring sack of potatoes. All the ingredients you need to participate and lead among your peers in campus life await you, including on-campus jobs, worship, sports, music, volunteer/mission service and student clubs.
Ever heard of six degrees of separation? It means you are six or less acquaintances away from anyone on the planet. In the Adventist global community, it's probably closer to two degrees of separation. A Lifelong LinkedIn network of classmates, faculty and staff who share your faith in Christ and support your personal growth and development.
more likely to experience positive dating interactions
more likely to develop lifelong friendships with classmates, faculty, staff
more likely to participate in campus activities like sports, music, publications, clubs
more likely to learn the importance of healthy living
You're investing your time, money, and brainpower to get that diploma. But the outcome is so much more than a piece of paper. You'll get career, leadership, public speaking and ethical decision skills, PLUS, healthy living habits and a faith affirming life philosophy. A versatile and relevant Adventist education prepares you … to adult!
Choose from 13 Adventist Colleges and Universities!
Select any marked location on the map to find out more about each Adventist College or University.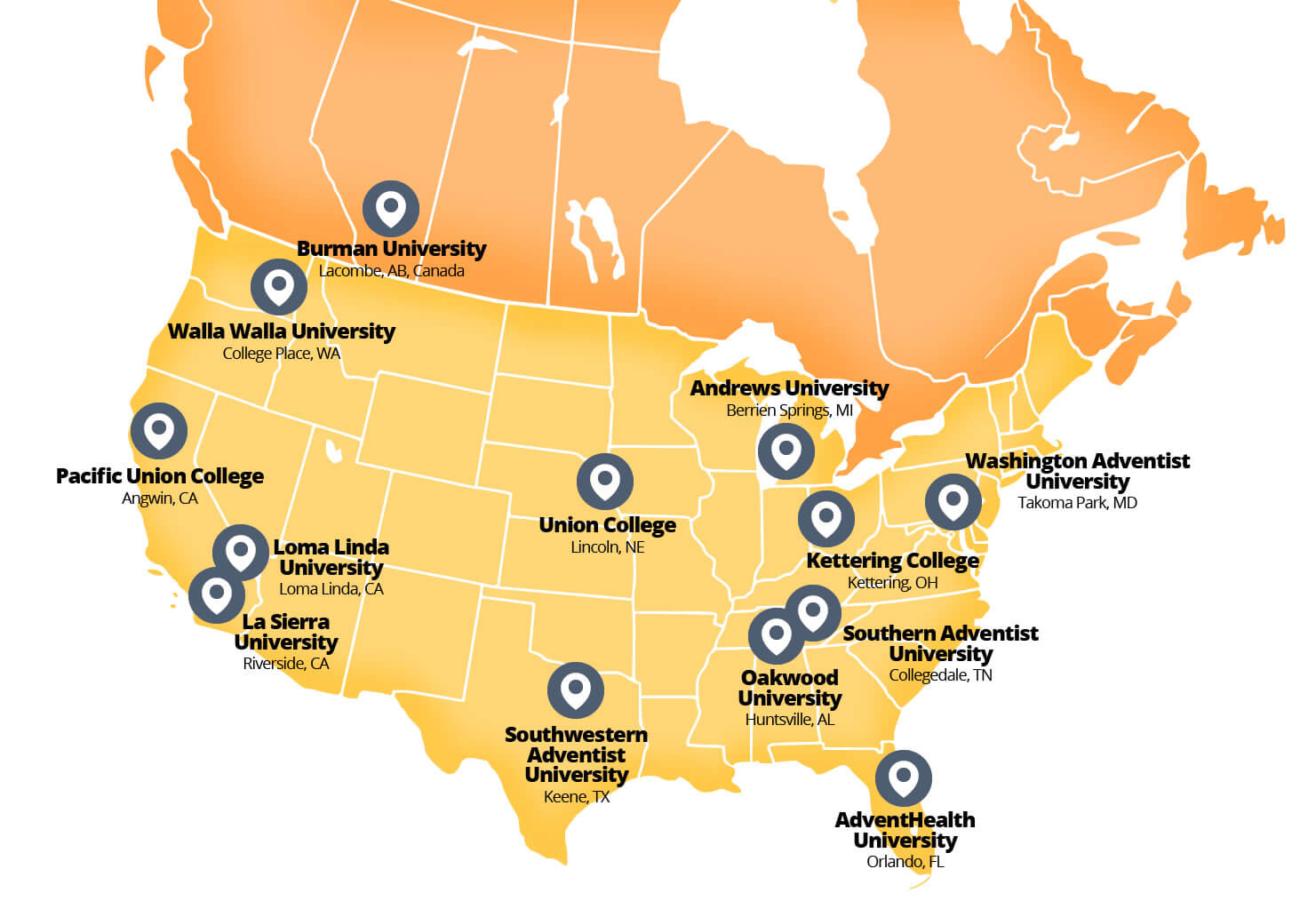 ADVENTHEALTH UNIVERSITY
ORLANDO, FL
ANDREWS UNIVERSITY
BERRIEN SPRINGS, MI
BURMAN UNIVERSITY
LACOMBE, ALBERTA, CA
KETTERING COLLEGE
KETTERING, OH
LA SIERRA UNIVERSITY
RIVERSIDE, CA
LOMA LINDA UNIVERSITY
LOMA LINDA, CA
OAKWOOD UNIVERSITY
HUNTSVILLE, AL
PACIFIC UNION COLLEGE
NAPA VALLEY, CA
SOUTHERN ADVENTIST UNIVERSITY
COLLEGEDALE, TN
SOUTHWESTERN ADVENTIST UNIVERSITY
KEENE, TX
WALLA WALLA UNIVERSITY
WALLA WALLA, WA
WASHINGTON ADVENTIST UNIVERSITY
TAKOMA PARK, MD
Is an Adventist Education Affordable?
Find out more about scholarships, grants and awards
LEARN MORE
ATHLETICS, SPORTS, AND RECREATION